Wilhelm was born April 28, 1814 at Varel in Oldenburg. Baptized May 26, 1814, his godparents were Johann Wilhelm Meier and Cathrine Margrete Meier. He was confirmed into the Lutheran Church on 4 May 1829 in Jade. In Germany, church records referred to him as a carpenter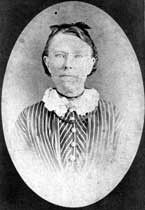 or day laborer. He married Wübke Margaret Harfst in a civil ceremony on 23 May 1843 and in a religious ceremony on 25 May 1843 in Jade.
They were the last of the Heinsohns to immigrate. Wilhelm Heinsohn, 36, his wife Meta, 29, and their children, Cathrine Marie, 6 and Diedrich Wilhelm, 4, are listed as passengers of the Solon when it sailed from Port Bremen, Germany on the ship under Captain H. Balleer on September 16, 1850. They were among 156 passengers who arrived in Galveston on 29 Nov 1850 after a voyage of sixty-two days. Heinrich, who was two years old, was also onboard ship but was not listed.
They settled in Gerhard Fehrenkamp's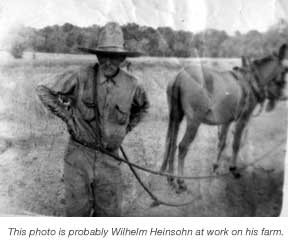 rent house three miles south of Frelsburg. (The Fehrenkamps were also from Jaderberg and had immigrated with Anton.) In 1854 Wilhelm bought 130 acres north of Frelsburg and just west of McElroy Lane. During the Civil War, Wihelm spent at least a short while as a member of Militia Company No. 2 of the Texas State Troops at Frelsburg. He is listed with that company when they and other Colorado County units voted for a Brigadier General of the 22nd Brigade on May 17, 1862. He, his brothers and many neighbors were organized to protect their community if it was invaded by Union troops.
In 1867 Wilhelm bought the property that contains the 223 5/8 acres of land on Stokes Road that is still in the family. His crop staples were corn, broomcorn, and cotton and he also raised cattle and hogs. He helped in the community by building roads and schools.
Wilhelm died on May 28, 1885 at age 71 and was buried in the Trinity Lutheran Church Cemetery in Frelsburg. Meta lived another sixteen years in her home with her youngest son, Otto and his family. She passed away three months short of her eightieth birthday on June 18, 1901 and was buried alongside Wilhelm.
See more on Meta Heinsohn and their children.
Overview
•
Wilhelm
•
Fred
•
Heinrich
•
Gerhard
•
John
•
Anton
•
Family Tree
•
Web Cards