Gerhard Heinsohn
| | |
| --- | --- |
| | This photo is cropped from a portrait of Gerhard with Sophie. I have a small portrait that I believe is either Gerhard or his brother, Anton. Click here to compare the two photos and let me know what you think. |
Baptized as Eilerd Gerhard at the Evangelical Lutheran church at Jade, his godparents were Gerd Harfst, Eilerd Meinen, and Almuth Gerdes. Gerhard was confirmed into the Lutheran Church in Jade on March 27, 1836. He is said to have served in the German army before emigrating 30 Sep 1847 through Hamburg with his brother Anton. He was listed as a carpenter apprentice, bringing along nothing of value at that time. However, he is not listed as a passenger on the Helen & Elise with Anton.
Entering at Galveston Gerhard and Anton joined their brothers who were doing carpenter work at the time. All but their brother, Friedrich, left Galveston for Colorado County some time during the next three years.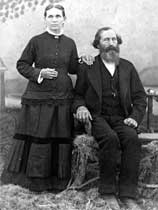 In the 1850 census, Gerhard is listed as living at Frelsburg with his married brother Henry who had emigrated that year with his wife Catherine Heinsohn and their child Diedrich. Their brother, John Heinsohn, also lived with them.
On January 4, 1855 Gerhard Heinsohn married Sophie Fehrenkamp who had also immigrated from the vicinity of Jaderberg. In the 1860 Colorado County agricultural census, he is listed as owning 100 acres, thirty of which were improved. He had twenty-three head of cattle, thirty swine, and 800 bushels of corn. He also owned one slave. During the Civil War Gerhard aided the Confederacy as a second lieutenant in company of the 22nd Home Brigade located at Frelsburg. He was said to have hauled flour as a teamster for the Confederacy and occasionally made trips to Mexico to hawk supplies.
The family moved across the county line into the Willow Springs neighborhood in the 1870s. Their home, which still stands but is no longer habitable, is pictured above in this photograph of Gerhard and Sophie with their children and grandchildren.
Gerhard passed away on September 18, 1902 and was laid to rest in the Trinity Lutheran Cemetery at Frelsburg. Sophie lived in their home another fourteen years with her son, Gerhard W., and his family. She died on September 8, 1916 and was also buried in Frelsburg.
See more information on Gerhard Heinsohn's family.
Overview • Wilhelm • Fred • Heinrich • Gerhard • John • Anton • Family Tree