Anton Heinsohn

Collecting photographs of Anton Heinsohn has been an interesting journey. The photograph on the left comes from Fay Woolrich whose father, Dr. Edmund Heinsohn, identified the portrait as his grandfather, Anton. Unfortunately, the portrait is so heavily retouched that it bears very little likeness to the others. The center portrait also comes from Fay Woolrich and it had been identified as Alfred Splittgerber. However, the photo is identical to a retouched portrait belonging to the Friedrichs which was known to their family as Anton and Nancy Heinsohn. (Additionally, the photo above appears to be too old to be his son-in-law.) The photo on the right is cropped from a small unidentified photograph in my possession. This image is identical to the man in a family portrait, also in my possession, that appears to be the Anton Heinsohn family. Additionally, I have a small portrait that I believe is either Gerhard or his brother, Anton. Click here to compare it to the other photos. Please e-mail me if you recognize any of these photos or just have an opinion.
There is a discrepancy about Anton Heinsohn's birthdate. His gravemarker lists his birth as November 17, 1829, while references in Germany lists his birthdate as 22 October 22, 1830. Baptized November 28, 1830, Anton's godparents were Anton Peters, Gerhard Alhorn, and Talke Margarete Docht.
Anton came to the United States in 1847 on the Helen & Elise when he was eighteen. He entered at Galveston on December 12, 1847 and settled in Colorado County. He married Nancy Stoeltje on October 1, 1852. Anton and Nancy raised his nephew, George Diedrich Heinsohn, after his parents died in the early 1850s. They spent the rest of their married life on farms near Frelsburg and eventually had thirteen children of their own.
During the Civil War Gerhard aided the Confederacy as a second lieutenant in a company of the 22nd Home Brigade located at Frelsburg.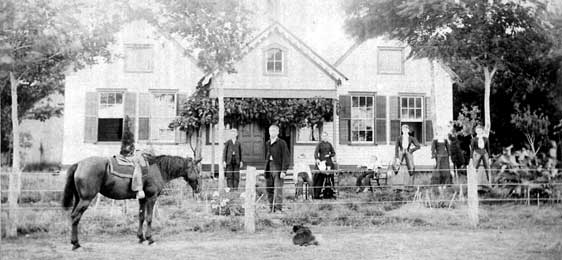 In 1868, Anton brought property on what is now Stokes Road. He, Nancy and several of the children are pictured above at their home on that property. As the children grew up, most of them moved from the Frelsburg vicinity. In October 1901, Anton sold the farm to his daughter and son-in-law, Marie and Louis Pflughaupt, reserving "the South East corner of the main dwelling house" for the rest of his and Nancy's lives. He died only two months later on December 7,1901. The Bellville Wochenblatt reported his death as being on Sunday with burial the next day in the family cemetery.
Anton's house still stands, although the roof line was altered so it wouldn't leak so easily. The interior has been gutted and modernized and is the home of Gene Pflughaupt, Jr.
See more about Anton Heinsohn's family.
Overview • Wilhelm • Fred • Heinrich • Gerhard • John • Anton • Family Tree