Overview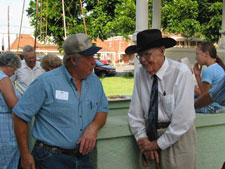 The Diedrich and Elise Weishuhn Heinsohn descendants began our reunion tradition with a gathering at Cuero Municipal Park on August 14, 1955. The group voted to meet again the next year and elected Werner F. Kautz as president, Arthur Fenner as vice-president, and Alice Coldewey as secretary/treasurer. They held these offices until 1963. 
The descendants of Diedrich's brothers and sisters attended the 1956 reunion at Cuero and it became known as the Wilhelm Heinsohn Reunion. In 1964 the reunion moved to the New Ulm Fireman's Park.  The following year descendants of Gerhard, John, and Anton Heinsohn joined the gathering and the year after that those in attendance voted to rename it the Heinsohn Family Reunion. 1965 was also the year that Janice Heinsohn Sager was elected family historian. 
The reunion moved to the V.F.W. Hall in La Grange in 1971. The 1974 gathering was the largest when one hundred seventy-five people came for the twentieth reunion. The first Heinsohn Heritage Tour was held in 1998. The fiftieth reunion in 2004 and sixtieth reunion in 2014 were celebrated over an entire weekend with a heritage tour, barbecue and dance.
Our Next Reunion
The next Heinsohn Family Reunion will be held, registration beginning at 10:30 a.m., on Sunday, July 16, 2023 at the VFW hall at 500 Veterans Memorial Drive, La Grange, TX 78945. Alley's Bar-B-Q and Catering from Moulton will cater the noon meal consisting of chicken, sausage, giblet rice, and cole slaw. Plates will be $15, payable at the reunion, but you must rsvp by July 7th to Holly at 361-655-3622 by text or phone. Please bring a dessert. We will also have a Silent Auction and "Split the Pot" using raffle tickets to help defray reunion costs. Please contact Rox Ann if you need to be added to or update our reunion mailing list.
Reunion Committee
We will begin meeting early next year to plan our 70th anniversary reunion to be held in 2024. The reunion planning committee currently includes the following: Holly Heinsohn, Cathy Hord, Dawn Heinsohn, Laurie Albrecht, Frank and Wanda Cernosek, Melanie Grafe, Carolyn Heinsohn, Virginia Heinsohn, Monique Madrid, Zach Robinson, Nancy Bessent, and Linda and Chuck Cassidy. We can always use more help and ideas. Please contact Rox Ann if you'd like to be added to the committee.
Our 60th Reunion
The Heinsohn family celebrated their 60th family reunion in 2014 with a full weekend of activities. On Saturday, July 19th, a Heinsohn Heritage Tour began in Fayetteville. More than 30 people caravanned toward Frelsburg, stopping at family farms and other places important to the early Heinsohns. A 60th reunion booklet elaborated on family history presented at each of the stops. An afternoon social followed at Park Prairie Park. In the evening 72 attended a barbecue and dance at Heh, Remember When dance hall. Music was provided by the Texas Legacy Czech Band with Jimmy Heinsohn.

The traditional Sunday reunion was held in the Holy Rosary Catholic Parish Hall in Hostyn, Texas on July 20, with registration beginning at 11 o'clock. There were 78 family members and visitors present.

Nancy Bessent led everyone in table grace. After enjoying our buffet lunch, we all trooped outside the building to have our official 60th Reunion photograph done by Laudermilk Panoramics.

The business meeting was called to order by the president, Holly Heinsohn Kropp, beginning with words of welcome to everyone. The role call was given for the descendants of: Wilhelm, 42; Friedrich, 0; Gerhard, 0; John, 1; and Anton was 22.

Thank you was offered to speakers at the Heritage Tour that included: Fayetteville City Councilman Greg Gillespie, Rox Ann Johnson, Carolyn Heinsohn, Wanda Cernosek, Holly Heinsohn, Nancy Bessent, and Clyde and Virginia Heinsohn. A special note was offered to the Planning Committee: Nancy Bessent, Jay and Shirley Brakefield, Linda and Chuck Cassidy, Marlene Halamicek, Elaine Haevischer, Bob and Carolyn Heinsohn, Cheryl Heinsohn, Dawn Heinsohn, Holly Heinsohn, Cathy Hord, Naomi Johnson, Rox Ann Johnson and Judy and Charles Vana.

The prizes won this year included: Lucy Friedrich was the youngest girl (8 months); her twin, Gus Friedrich was the youngest boy (8 months), Paula Heinsohn at 95 was the oldest lady; and Weldon Haevischer at 77 was the oldest man. The most recently married were Neal and Kathy Johnson (2 months); the longest married at 56 years was Elaine and Weldon Haevischer. Sherry Freeman traveled the furthest this year (200 miles).

Nancy Bessent led the memorial portion of the program. It was reported that the following cousins had passed away the year before: Robert Albert Bahr, Evelyn Doubrave, Rowena Kathryn Engbrock, Wilhelminia Clara Friedrich, Melvin William Friedrich, Gerald Don Johnson, and Moody Pershing Heinsohn.