Overview
Wilhelm Heinsohn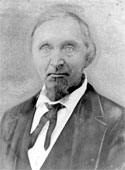 Wilhelm (28 Apr 1814 – 28 May 1885) married Anna Margarete (Meta) Harfst (16 Sep 1821 – 18 Jun 1901) at Jaderberg on May 23, 1843. They had three young children when they immigrated in 1850 aboard the Solon. They settled near Frelsburg where they bought a farm and then in 1867 they bought the property that remains in the family today. Besides farming, Wilhelm also made and sold brooms. His children were Marie Ramthun, Diedrich Heinsohn, Heinrich Heinsohn, Gerhardine Kasten, Willie Heinsohn, Fred Heinsohn, Ernst Theodore Heinsohn, Theresa Henniger, and Otto L. Heinsohn.


Friedrich (Fred) Heinsohn
Fred (1816 – ca 1889) and his brother, John, were the first to emigrate. They arrived in Galveston on the Ferdinand on June 18, 1845. Unlike his brothers, Fred settled in the Galveston area. He married Augusta Oehring (1827 – 30 Oct 1904) and worked as a carpenter and mechanic. The couple eventually bought a farm at Alta Loma and much of this property remains in the family today. Family lore says the couple had fourteen children, but only six lived to adulthood. Their children included Emma, Augusta Bahr, Henry Heinsohn, Henrietta Brautigam, Julia Foster, William Heinsohn, and Helen Huntington. Neither Henry nor William married and, as a result, no living Fred Heinsohn descendants bear the Heinsohn surname.


Heinrich Heinsohn
Heinrich (15 Jan 1819 – ca 1851) married Ahlke "Kathrine" Müller (5 May 1821 – ca 1851) on June 8, 1847 at Jade in Oldenburg. Heinrich worked as a shoemaker or day laborer. They emigrated aboard the Neptune in 1850 with their only child, George "Diedrich" Heinsohn. The family settled first at Frelsburg and then nearby in Austin County, but the parents both died within a year or two of their arrival in Texas. Young Diedrich was taken in by his newly married uncle, Anton Heinsohn. Diedrich married, but soon died without issue. Heinrich has no living descendants.


Gerhard Heinsohn

Gerhard (13 Feb 1822 – 18 Sep 1902) served in the military in Oldenburg. We do not know exactly when he immigrated, but we believe he came through Galveston like his brothers in 1847 or 1848. He married another native of Jade, Anna Margrete "Sophie" Fehrenkamp, on January 4, 1855. They farmed first in Colorado County and then moved just across the county line into Fayette County near Willow Springs. Their children were Minnie Schweke, August Heinsohn, Emma Wagner, Mary Zapp, Friedrike, Gerhard W. Heinsohn, Emily Johnson, Louis Heinsohn, Charlie Heinsohn, Matilda Krueger Fehler, Ida Beteit, and Ella Krause.


Johann (John) Heinsohn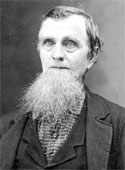 John (4 Feb 1827 - 11 Apr 1903) immigrated with Fred on the Ferdinand in 1845. He married Anna M. Meyer (29 Sep 1836 – 10 Mar 1864) of the Ross Prairie community in Fayette County on January 17, 1853. John was a carpenter, furniture maker and farmer in the area around Post Oak Point and New Ulm in Austin County. Several pieces of furniture he crafted remain in the family today. Anna gave birth to five children before she died at twenty-seven. Their children were John Heinsohn, Jr., Anna Beck, Nancy Albrecht, Elise Lingnau and Minnie Hillman. Minnie was raised by the Wittbeckers, childless friends of the family.


Anton Heinsohn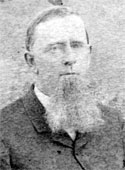 Anton (22 Oct 1830 – 7 Dec 1901) immigrated on the Helen & Elise in 1847. He married Nancy Stoeltje (25 Sep 1835 – 22 Oct 1908) on October 1, 1852. The farm they bought near Frelsburg in 1868 is still in the family. Besides rearing his orphaned nephew, Diedrich, Anton and Nancy had thirteen children: William Heinsohn, Mary Pflughaupt, Charles Heinsohn, Reinhardt Heinsohn, Helena, Gerhard, Anton Heinsohn, Jr., Louisa Friedrich, Meta Zschiesche, Augusta Splittgerber, Heinrich, Edward Heinsohn, and Adolph Heinsohn.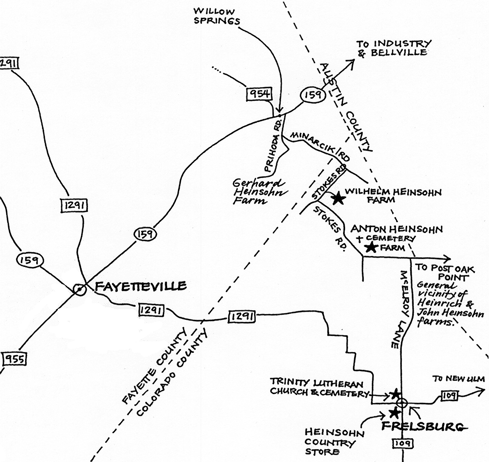 Join us at the online Heinsohn mailing list
a forum for asking questions and sharing information about the Heinsohn family
Contact Rox Ann Johnson, list administrator, for more info.


Overview • Wilhelm • Fred • Heinrich • Gerhard • John • Anton • Family Tree • Web Cards