| | |
| --- | --- |
| | This is the only portrait of Johann Heinsohn known to me. Click here to see a snapshot that we believe is John and a daughter or granddaughter. |
Johann Gerhard Heinsohn was born at Jaderberg on February 4, 1827. His godparents were Johann Cordes, Reinhard Gerhard Lammers, and Marie Elisabeth Lange. He was confirmed into the Lutheran Church at Jade on May 2, 1841.
John was listed as a carpenter "hoping for a better life" when he emigrated with Friedrich in April 1845 on the Ferdinand. Research commissioned in Germany stated that the Ferdinand left Bremerhaven on May 8, 1845 and arrived at Galveston on June 18, a voyage of thirty-nine days with sixty passengers aboard. The captain was G. Hagedarn. He probably remained there until more of his brothers arrived. In 1850 he was living in Frelsburg with his brother Henry and his wife Catherine along with his brother Gerhard.
On January 17, 1853 John married another German immigrant, Anna Meyer, who lived in the nearby community of Ross Prairie. After they married, John G. and Anna Heinsohn bought property in Austin County where they made their home in the Post Oak Point area.
Anna died in 1864, two months after giving birth to her fifth child, Minnie. Even though he was only thirty-seven at the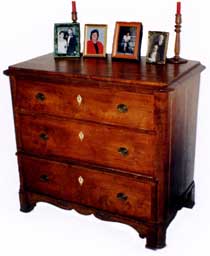 time, John never remarried. The baby was raised by the Wittbeckers, a childless couple who lived in Ross Prairie.
John Heinsohn was a farmer, as well as a cabinet maker and carpenter. Several pieces of his furniture still survive and are treasured by his descendants. During the Civil War years he is said to have aided the Confederacy by delivering mail to the soldiers in the field. In 1867 he was also one of the original organizers and shareholders in the St. John Lutheran Church and School at New Ulm.
Because of an asthmatic condition in his later years, John was unable to farm and made his home in the Bluff area near La Grange with his daughter, Nancy Albrecht, and her family. He passed away on April 11, 1903 while visiting his daughter, Minnie Hillman, in Yoakum and is buried there in the Oak Grove Cemetery. He was seventy-six years old.
Learn more about John's family.


Overview • Wilhelm • Fred • Heinrich • Gerhard • John • Anton • Family Tree