2004 – 50th Heinsohn Family Reunion
The Heinsohn Family kicked off its fiftieth annual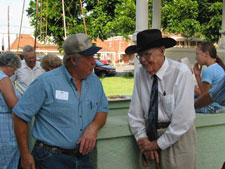 family reunion at 9 a.m. on Saturday, July 17 at the square in Fayetteville with a "Heinsohn Heritage Tour." About sixty cousins participated, including Arthur Fenner of Kenedy, who was elected vice-president of the first Heinsohn Reunion back in 1955.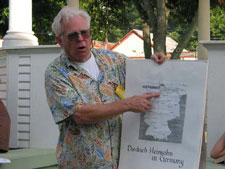 Rox Ann Johnson of Austin, one of the reunion's historians, began by explaining that six Heinsohn brothers had immigrated to Texas from the area around Varel in Oldenburg between the years 1845 and 1850. Ray Heinsohn of Pasadena told what he has learned of the family's origins in Germany in his years of research. Mrs. Johnson gave a brief overview of the Fred Heinsohn family of Galveston and the families of Heinrich and John Heinsohn who settled in Austin County, before describing the Gerhard Heinsohn family's connection to Fayetteville.
The group then caravanned through Willow Springs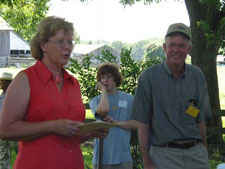 and across the Colorado County line to the home of Bernice Heinsohn, where the oldest Heinsohn brother, Wilhelm, established a farm in 1867. Mrs. Heinsohn greeted her guests and then turned the program over to her daughter, Wanda Cernosek of San Antonio, who described how her mother came to the farm as Wilhelm's grandson's young bride in 1935 and how she managed to keep farming even after being widowed with five young children. She talked about the early buildings on the farm and how Wilhelm Heinsohn had run a broom factory. Mrs. Johnson gave a brief history of Wilhelm and Meta Heinsohn's children, displaying their photographs and telling where they lived. Clyde Heinsohn led the group to a barn to look at old, numbered and notched timbers, which are thought to be from an early Heinsohn cabin.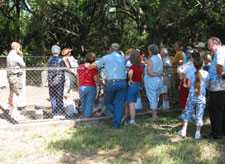 The next stop was the Anton Heinsohn Family Cemetery, where the youngest of the Heinsohn brothers and several of his descendants are buried on the farm he purchased in 1868. Leander Pflughaupt and Shirley Evans of Houston described growing up on the farm and told what they knew about the family cemetery. A short history of Anton and Nancy Stoeltje Heinsohn's family followed with photos of his children who had mostly spread out from Colorado County to Lavaca County and Bartlett.
Those assembled then drove to the Heinsohn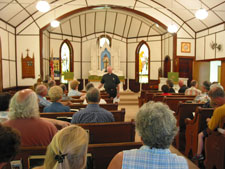 Country Store at Frelsburg, which has been owned by Leslie Heinsohn's family since 1920. Everyone enjoyed seeing the wide variety of old-fashioned merchandise there. The final stop was Trinity Lutheran Church where Pastor Mosley gave a brief history of the church, aided by Mildred and Teddy Schultz. The Heinsohn cousins enjoyed seeing the stained glass windows donated in memory of family members and then visited the cemetery where the graves of forty-nine Heinsohn descendants and their spouses were marked with American flags and sunflower bouquets.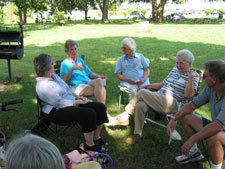 Saturday morning's family golf outing was not so well attended, but a foursome led by Chuck Cassidy of Henley did play a round of golf at Frisch Auf! Country Club in La Grange.

About sixty Heinsohn cousins met that afternoon at Park Prairie on Lake Fayette. Cousins swam, boated, played games and looked through family history books before enjoying bowls of hand-cranked homemade ice cream. Nancy Bessent of Austin, Jay Brakefield of Dallas, and Earl Heinsohn of Shiner all brought instruments for a family jam session.
At 6:30 about 120 cousins gathered at Baca's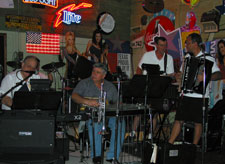 Pavilion in Fayetteville for a catered barbecue supper organized by Cheryl Heinsohn of Austin and Linda Cassidy of Henley. After the meal they danced and enjoyed the country western and polka music of the "Sound Connection," which includes the talents of Jimmy Heinsohn of Sugar Land.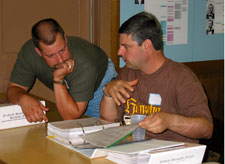 On Sunday the reunion began at 10 a.m. at the V. F. W. Hall in La Grange. Dawn Heinsohn of Highlands and Dorothy Albrecht of La Grange greeted guests and sold family T-shirts and DVDs as reunion fundraisers. At eleven, Nancy Bessent taught the assembled children the German song, "Mein Hut, der hat Drei Ecken," while the adults visited, bid on items for the silent auction, contributed to the family time capsule, or poured over the family history notebooks and charts. Cheryl Heinsohn coordinated both the silent and live auctions. Wyatt Johnson of Austin made balloon hats for the children.
Over 130 cousins gathered for a panoramic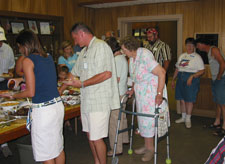 photo at noon. Gladys Gresser of Austin then led the family in a German table prayer before enjoying the extensive assortment of dishes prepared for the family's traditional potluck lunch. Following the meal, Don Heinsohn of Huntsville auctioned numerous items donated to benefit the reunion.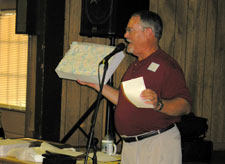 President Cathy Hord of Georgetown opened the business meeting and welcomed those attending for the first time. Dawn Heinsohn read the minutes and gave the treasurer's report. Historian Rox Ann Johnson, who was also chairman of the fiftieth reunion celebration, gave a report on Saturday's activities and recognized those cousins who had attended the first Heinsohn reunion in Cuero in 1955. She also recognized the many cousins whose efforts helped make the 50th reunion a success.
Planning committee members had met for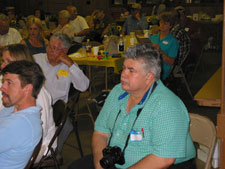 almost two years preparing for this special weekend. They included Dorothy Albrecht, Nancy Bessent, Linda and Chuck Cassidy, Ruth Eckols, Jane and Logan Friedrich, Marlene Halamicek, Elaine Haevischer, Cheryl Heinsohn, Dawn and Jesse Heinsohn, Ray Heinsohn, Ted Heinsohn, Cathy Hord, Rox Ann Johnson, and Judy and Charles Vana. She thanked Anita Johnson of Austin for photographing the reunion and for producing a DVD entitled "Our Heinsohn Roots" as a special 50th reunion fundraiser. It features an interview with Ray Heinsohn describing what he has discovered about the Heinsohn family in Germany, as well as a slide presentation of the first generations in Texas.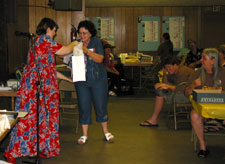 Cathy Hord recognized the youngest boy and girl present, 4-week-old Colby Green and 9-month-old Aubrey Paige Pflughaupt. The oldest lady in attendance was Wilhelminia Friedrich and the oldest gentleman was Moody Heinsohn. Moody and Glemma Heinsohn of Pasadena were the longest married couple and Donna and John Burg of Richardson were the most recently married. Out of state attendees were Fay Woolrich of Kalamazoo, Michigan; Margarita Quihuis, Robert and Benjamin Eckols of Palo Alto, California; Richard and Suzanne Hillman of Vail, Arizona; and Jim and Joan Robinson from Clemmons, North Carolina. Mrs. Hord also awarded several doorprizes.
Gladys Gresser led the memorial portion of the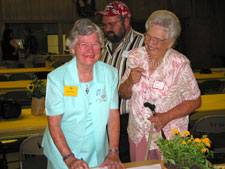 program. The following cousins have passed away since the last reunion: Melvin Christen, Alice Buegeler Coldewey, Walter Ehlers, Hilton Elstner, Mabel Koonsen Friedrich, Raymond Friedrich, Layne Grasshoff, Grace Heinsohn, Erna Schroeder Horne, Erwin Jahn, Adolph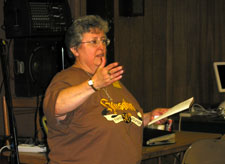 Kainer, Bernita Heinsohn Kalinowski, Christina Ladewig, Harry Polkinghorne, Evelyne Gersbach Shumake, Billie Bob Dorsey Ward, and George Wyckoff.
After Cheryl Heinsohn announced the silent auction winners, Nancy Bessent led the group through "Mein Hut, der hat drei Ecken" and the lovely "O Wie Wohl ist Mir am Abend" sung as a round. Gladys Gresser and Don Heinsohn concluded the program with the Benediction.